Masterplan and Concept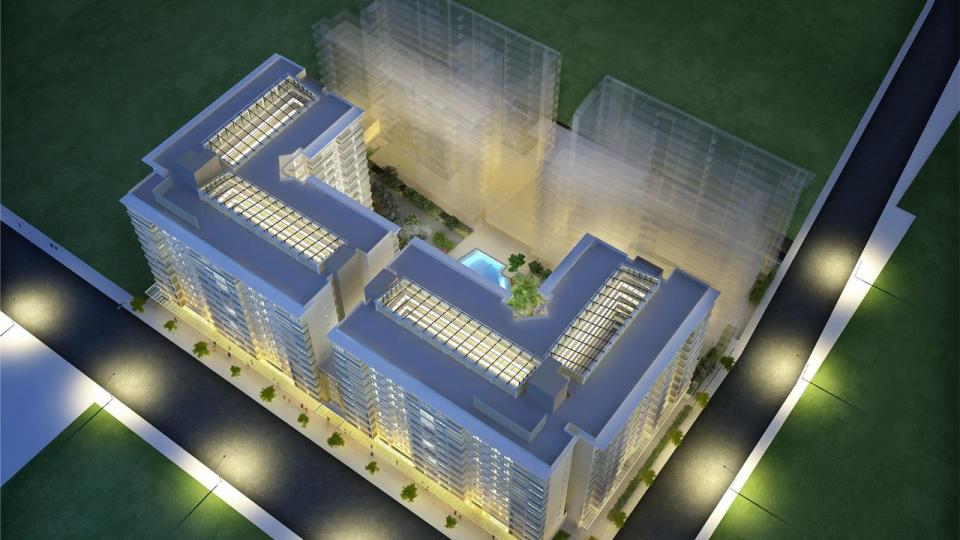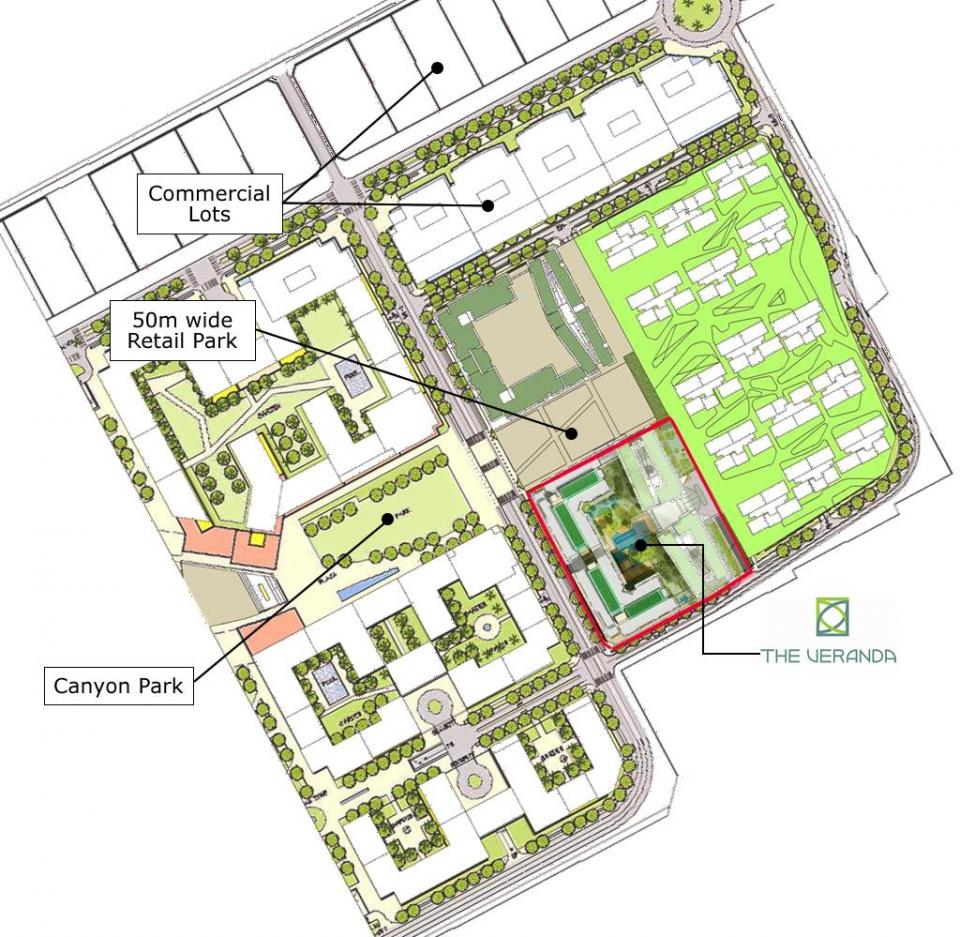 The Veranda is a four-tower residential condominium development located in a 12,998 sqm property - a private and intimate portion of Arca South. With only 13 to 14 floors, this mid-rise, low-density condominium in ARCA South, framing the essentials of living: breathable spaces, efficient architecture, gree open spaces, natural light and air. In a destination attuned with easy, effortless lifestyles: you, your home, your city - in sync.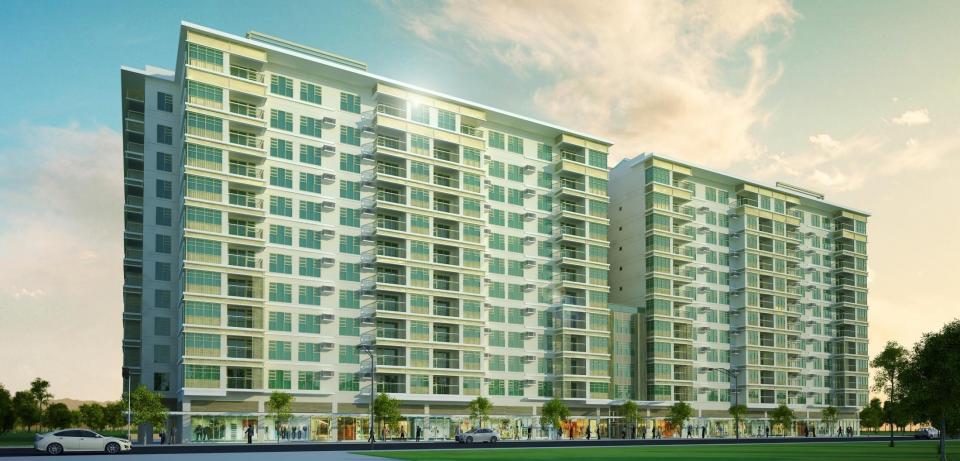 ---
The Veranda
The Veranda will rise within Arca South (formerly Food Terminal, Inc. or FTI) in Brgy. Western Bicutan, Taguig City. Within the first phase (South and West Towers), the project will offer studio to three-bedroom units at approximately 30 to 117 sqm.
An atrium and a central landscaped garden bring natural light and ventilation throughout the development. Diverse lifestyle retail rows at the ground floor complete the picture of a one-of-a-kind residential condominium living that will be your quiet and refreshing retreat from the chaos of urban jungle.
Amenities and Features
Spread within The Veranda are intimate-scaled amenities and lush greens for relaxation and recreation.
Outdoor
25-meter Lap/Adult Swimming Pool (341 sqm)
Kiddie Swimming Pool (62 sqm)
Outdoor Play Area (281 sqm)
Pool Deck
Outdoor Shower
Outdoor Play Area
Stepped Lawn
Koi Pond
Garden Lounge Areas
Indoor
Function Room (125 sqm inclusive of pantry)
Gym (182 sqm)
Game Room (102 sqm, 2 floors)
Indoor Play Area/Day Care (33 sqm)
Mail Room
Main Lobby and Reception
Atrium Gardens and Indoor Lounge Areas
Building features
13 physical floors above ground
3 basement parking levels inclusive of retail parking
Heat and fire detection, alarm and sprinkler system
Water reservoir and separate fire reserves
24-hour building security and building maintenance
CCTV Cameras in critical areas
RFID for identified security access points
Fire exit door contacts
Proximity card for elevator access
Automatic stand-by generator system
Maximized natural lighting and ventilation
Naturally ventilated elevator lobbies and hallways
LED lighting at the main lobby
2 Passenger elevators (one of which functions as freight elevator) per tower
Provision for building maintenance unit
Garbage disposal system
Bay windows on select units and views
Balcony areas for select units facing parks and greens
---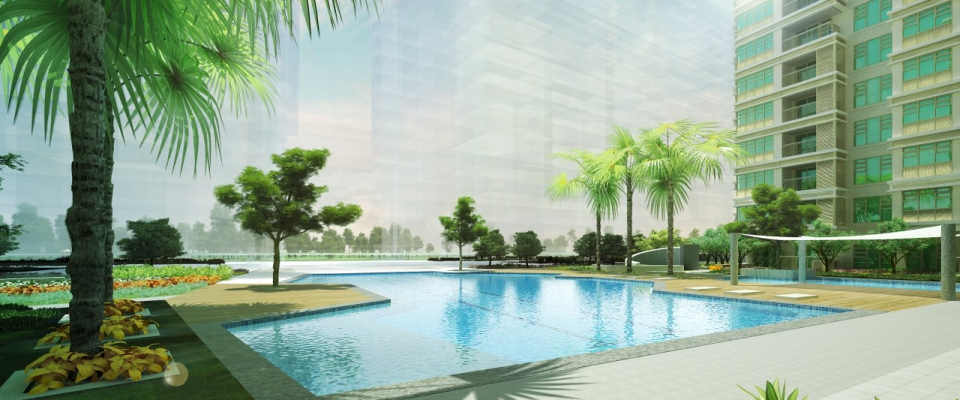 Pool area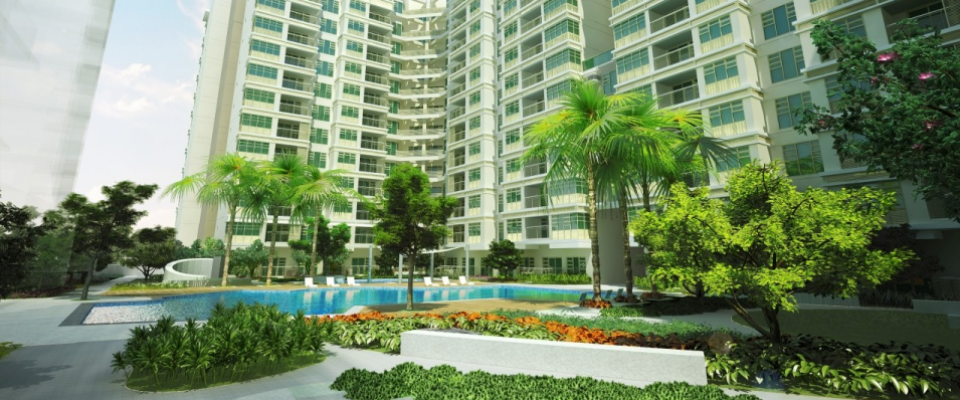 Courtyard amenity garden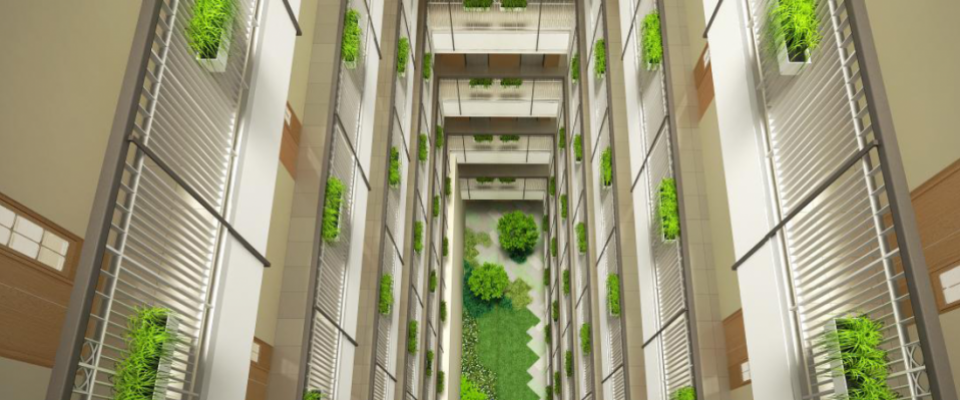 Low density
Mid-rise
Atriums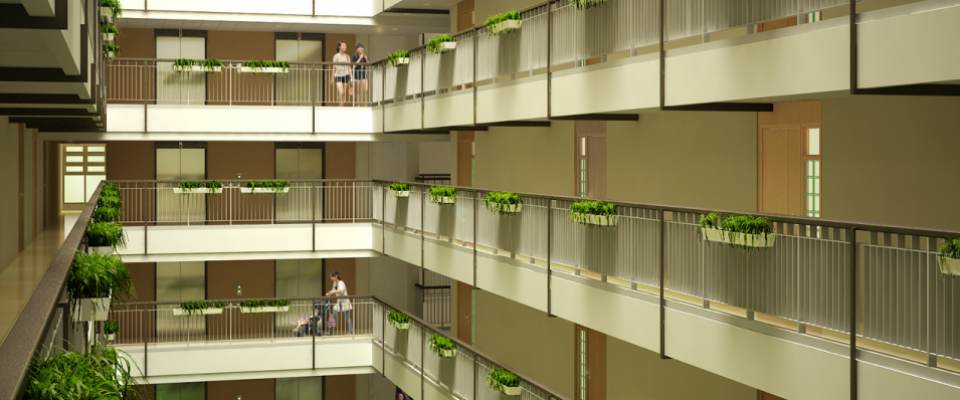 The design creates an interesting form of architecture and encourages natural ventilation and light to enter through the atrium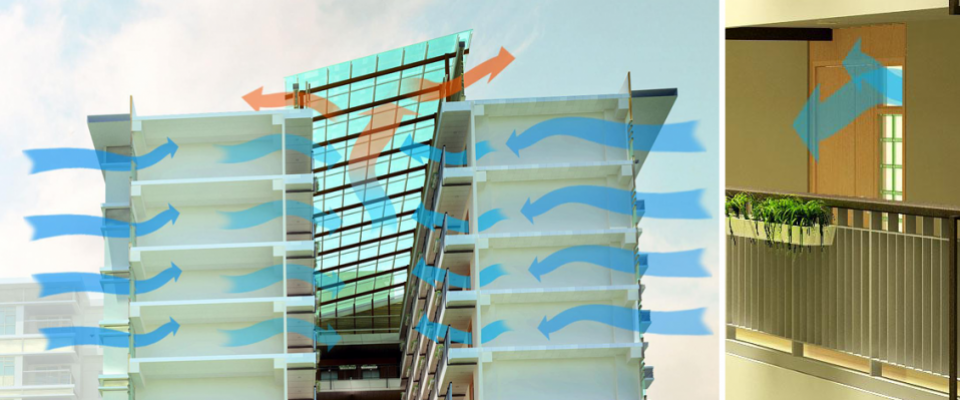 Aeroflux system
Fresh air travels inside the building
Warm air pushed up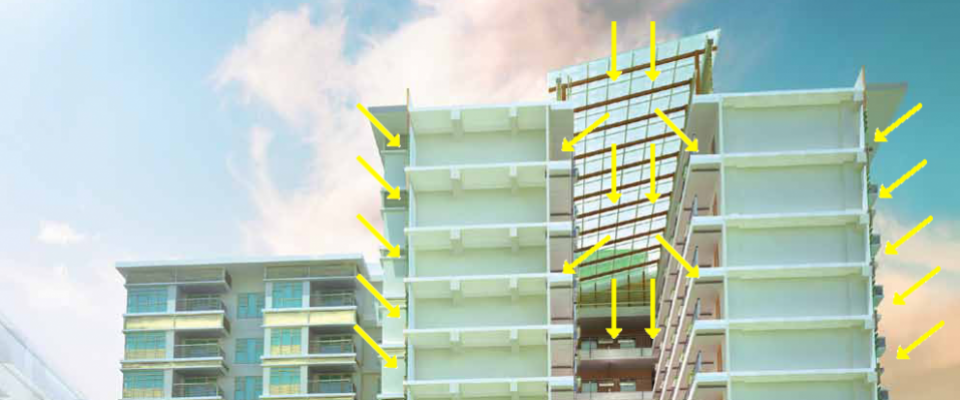 Aeroflux system
It allows sunlight to permeate the building through the atrium cap and the additional window and glass box treatment of residential unit doors
Natural light enters through the skylight
Alveo Land continues to challenge the limits to innovation as it introduces the latest technology in condominium development — the Aeroflux System. From the Latin words aero (air), flux (fluidity) and lux (light), the Aeroflux System revolutionizes living in the metro as it creates breathable and naturaly illuminated spaces.
Fresh air enters residential units through exterior windows and exits through the windows facing the hallway. Operable windows using the center pivot system doubles the amount of air coming in and out, allowing for adequate air passage. Window size accommodates pressure gradients enabling favorable wind via cross ventilation within units.
Fresh air enters through additional notches throughout the building, creating a difference in air pressure within the atriums. This encourages cool air circulation as warm air is pushed towards the atrium roof and out through the exhaust and louvers.
Aside from maximizing the potential for natural ventilation, Aeroflux System also allows sunlight to permeate the building through the atrium cap and the additional window and glass box treatment of residential unit doors.
Unit Offering
West and South building
East and North building
 Unit Type 
Approximate Unit Area (including Balcony/Terrace)
Studio
29 - 30 sqm
312.15 - 322.92 sq ft
Inquire
1-Bedroom
58 - 75 sqm
624.31 - 807.29 sq ft
Inquire
2-Bedroom
81 - 96 sqm
871.88 - 947.22 sq ft
Inquire
3-Bedroom
114 - 146 sqm
1,227.09 - 1,571.53 sq ft
Inquire
*Typical 8F-16F, Total for symmetrical East and North Towers
---
Studio Unit
| Approximate sizes only | sq.m | sq.ft |
| --- | --- | --- |
| Living/Dining/Sleeping | 20 | 217 |
| Kitchen | 4 | 40 |
| Utility | 1 | 12 |
| Toilet and Bath | 5 | 54 |
| Total | 30 | 323 |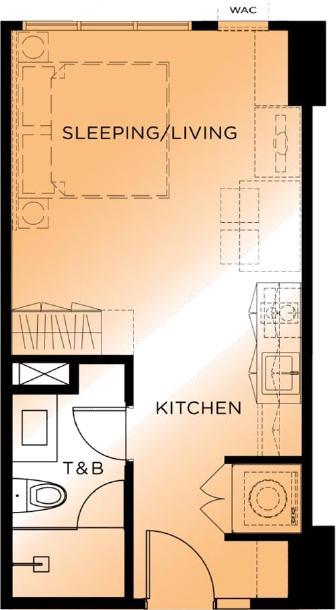 Studio Unit Floor Plan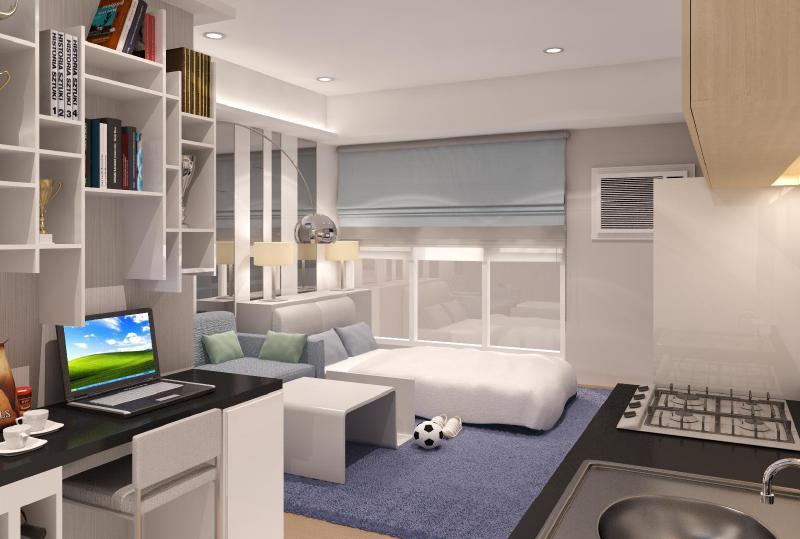 Artist's Perspective
---
1-Bedroom Unit
| Approximate sizes only | sq.m | sq.ft |
| --- | --- | --- |
| Living/Dining | 26 | 275 |
| Master Bedroom | 15 | 165 |
| Kitchen | 5 | 51 |
| Toilet and Bath | 5 | 51 |
| Utility | 2 | 27 |
| Balcony | 5 | 57 |
| Net Livable w/o Balcony | 53 | 569 |
| Net Livable w/ Balcony | 58 | 626 |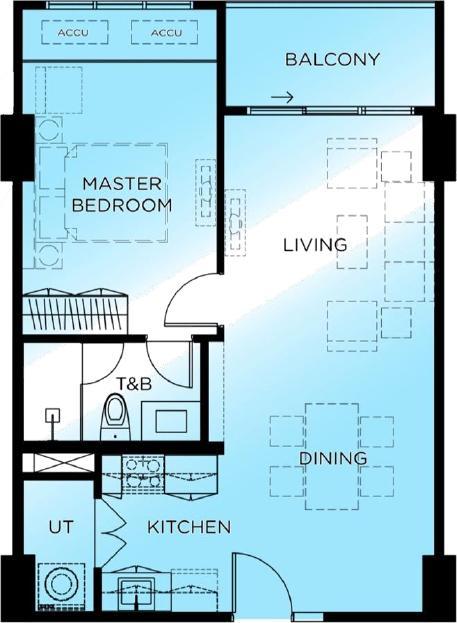 1-Bedroom Unit Floor Plan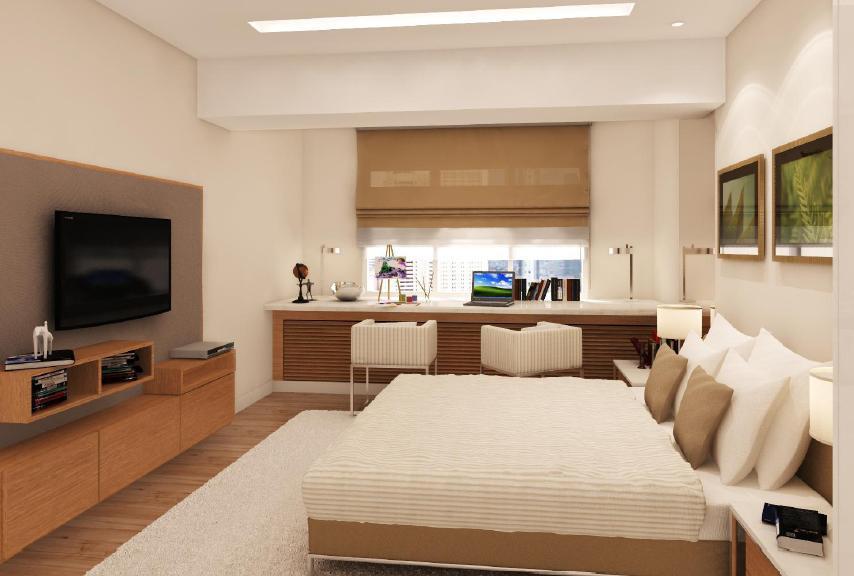 Artist's Perspective
---
2-Bedroom Unit
| Approximate sizes only | sq.m | sq.ft |
| --- | --- | --- |
| Living/Dining | 27 | 296 |
| Master Bedroom | 22 | 240 |
| Master Toilet and Bath | 5 | 51 |
| Bedroom | 11 | 114 |
| Common Toilet and Bath | 4 | 38 |
| Kitchen | 8 | 81 |
| Utility | 5 | 49 |
| Storage | 1 | 16 |
| Balcony | 5 | 58 |
| Net Livable w/o Balcony | 83 | 885 |
| Net Livable w/ Balcony | 88 | 943 |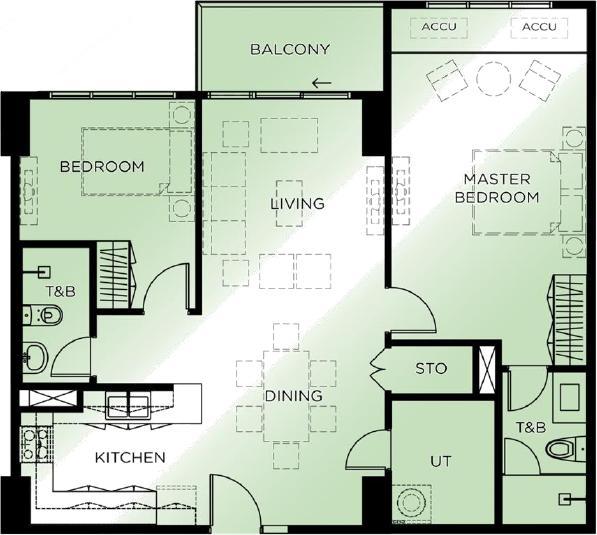 2-Bedroom Unit Floor Plan
Artist's Perspective
---
3-Bedroom Unit
| Approximate sizes only | sq.m | sq.ft |
| --- | --- | --- |
| Living/Dining | 32 | 340 |
| Master Bedroom | 21 | 226 |
| Master Toilet and Bath | 6 | 59 |
| Bedroom 1 | 17 | 178 |
| Bedroom 2 | 10 | 113 |
| Common Toilet and Bath | 3 | 38 |
| Kitchen | 8 | 84 |
| Utility Room | 5 | 53 |
| Utility Toilet and Bath | 2 | 27 |
| Storage | 1 | 12 |
| Balcony | 5 | 57 |
| Net Livable w/o Balcony | 105 | 1130 |
| Net Livable w/ Balcony | 110 | 1187 |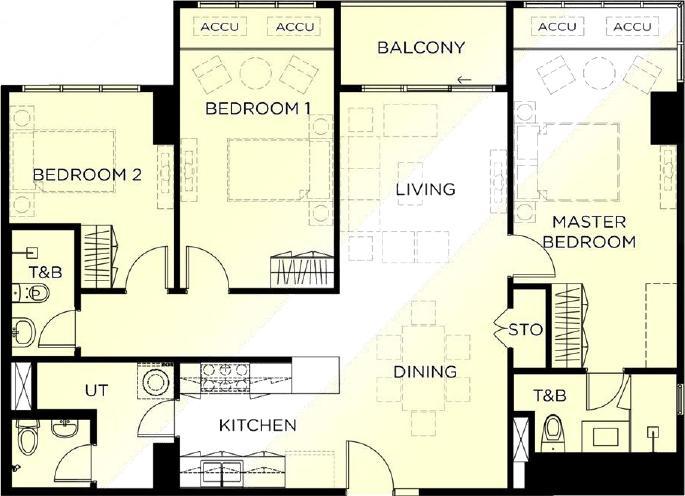 3-Bedroom Unit Floor Plan